October 15th, 2011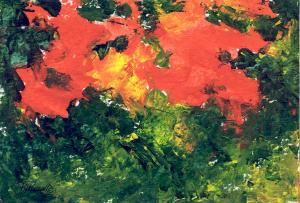 New abstract paintings by artist K. Joann Russell of Sunflower Studio Art are now available in prints on canvas or paper! They are part of my color chord series which originated from daily art color explorations.

Color continues to be my passion as I focus on color combinations in my original paintings. For two years to loosen up my painting style I played with colors in my artistic journal and wrote about my adventures on my blog http://kjoannrussell.blogspot.com I had so much fun and received so many responses to my work that I started a series of color explorations on watercolor paper greeting cards. Now those images of bright colors and textures can be printed on canvas or paper.

Collectors have purchased the original small paintings on greeting cards at my Etsy shop. Many have framed the painting rather than use it as a gift card. Others have sent framed pieces as gifts. Many have selected a card as a unique greeting for a special occasion. One person purchased several, framed them, and displayed them as a wall grouping.

I continue to paint in my artistic journal using various colors from limited palettes. Sometimes I write a blog post about an unusual color combination.

All the original greeting cards are one-of-a-kind art. I couldn't duplicate the colors and strokes if I tried.